How my fascination for mechanical calculators started

In the sixties of the last century, the years I visited the elementary school, lessons were given in mental calculation. Extensive learning of calculation tables was needed to perform multiplications and long divisions on paper. It was in those days that the father of my friend had a beautiful mechanical adding and listing machine. The heavy machine, with many buttons and an handle, was an eye catcher, so we had a hard time to resist the temptation to play with it. If we saw the machine unmanned, of course we made our simple calculations. A wonderful mechanical tool. Many questions were raised how that machine get those calculations done, but they remain unanswered at that time. It was not a toy to play with, so I knew the machine primarily as calculator in front of his father, who proudly deployed it for calculating invoices and contractor estimates in his small office beside the living room.
Later a new greater office was build at the backside of his house and the calculator was replace by a smaller electronic version.
At that time he and his other sun, allowed me to work in their workshop to make tools and instruments for my photo hobby and the first furniture for my wife and my apartment. During our many conversations, coffee brakes, lunches and some diners, lovely prepared by his wonderful wife, I got a lot of practical advises and often the world problems were part of the unforgettable discussions. But the father of my friend, unfortunately deceased at a much to young age. Many good memories remain of a fascinating and inspiring man.

As it happened often with friends, our ways separated. He moved to an other city and is working in radio commercials business. I moved to a village in the opposite direction and worked in the microelectronics field.

After my mother passed away, February 2010, I got a condolence card from my friend. His mother saw the obituary in the local newspaper. We didn't saw each other  for more than 25 years, so I tried to get in contact with him, to arrange a visit. He asked if it was all right to bring his current wife with him, which was of course all right. The reason for asking was, she never met his father and perhaps I could tell her a few anecdotes and characteristics of his father. I took it serious and wrote a few A4's ready to tell her. The adding / listing machine was also part of it.
The visit was  a pleasant one, a lot off almost forgotten memories where exchanged. My stories of his father were highly appreciated, the twenty five years seems to be jumped over in a few ours.

A visit to his mother, who fortunately is still alive, was inevitable. She appreciated the visit and the memories of her husband. During the animated conversation, were of course I thanked her for her hospitality at those days, I suddenly saw my friend, coming from the  attic stairs, with a heavy box putting it next to her chair. The box was open and for me a renewed acquaintance with the machine with the many buttons. That they have kept that machine so long and well preserved.
While I was still surprised, his mother's asked the attention: "Wim", se said, "For sure you have an office desk at home"? After my affirmative answer, she continued: "Then you should give this thing a beautiful spot on that desk". I was completely flabbergasted. That she donated that machine to "me", which had a so direct link to her deceased husband. After all, she has two sons and a daughter. It was almost too much for me. A gift of with a large emotional value!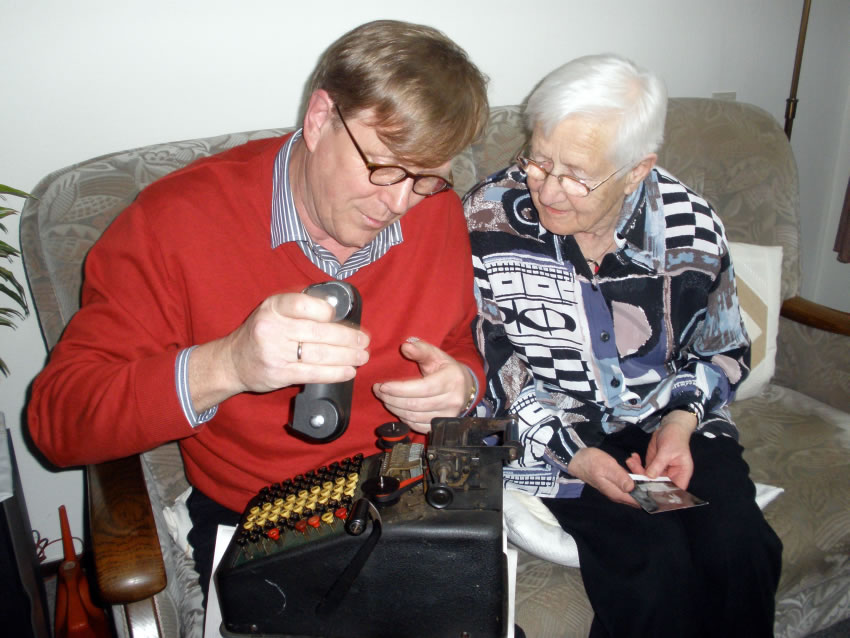 Photo: Mrs. Krajenbrink observes my first inspection of the just handed machine.


Late in the same evening / morning, I figured out who the manufacturer was (Wanderer in Chemnitz, Germany), what the type number was (Continental 9S) and I got him to add and print. The ink Ribbon blocked the calculation cycle, a spring of the paper transport was loose and some oil was needed here and there. A new fascinating hobby was born to get those unanswered questions from my childhood solved. Internet, various historical sites, eBay, visits to former factories, factory museums and enthusiastic collectors, everything was tapped to learn more of the functionality, the stories of this calculator and the other calculating and supporting mechanisms. Missing buttons were supplemented, rusted parts replaced by partly chromed versions and all equipped with dry lubricants, in short: The machine in a few month fully functional again and nice patched up.

We invited Mrs. Krajenbrink, Ingrid and Willem to observe the "new like" machine, fully functional again. A nice comment of her was that she remembered the sound of the machine.

In 2013 Mrs. Krajenbrink had to leave here home and moved into an apartment of a retirement home in here town. At the cleaning of the attic the mentioned smaller electronic calculator emerged. They decided to extend the story and donate that machine to my collection to. This time a even more special device was found to, one of his wooden rulers. They gave one to me I am very grateful again! Our house is in the meantime extended and in one of the rooms a showcase is planned. Those will get a prominent place there!

I like to dedicate this website to the Krajenbrink family, Annie, Herman, Ingrid and William in particular.